Plastic key tags, luggage tags and fobs are the perfect alternative to conventional cards. Custom printed in vibrant full colour, your company logo will be highly visible on your customer's key rings. Everywhere they go, you go!
Plastic Key tags, luggage tags or Fobs can include a barcode, QR code, sequential numbering or other variable data for membership tracking purposes. This information can be formatted to work with your existing software or POS system. The imprint surface is a water resistant Teslin polyester core with a protective, durable, high gloss over-laminate. NEWLINE offers many unique key tag shapes and sizes. Furthermore you can request a custom shape for your individual needs. NEWLINE key fobs are made in ultra gloss as well as matt finish giving greater scratch resistance and longer durability.
Whether used for tracking and collecting data, as a frequent buyer program or simply as a form of advertising, NEWLINE plastic key tags /luggage tags are a convenient and inexpensive marketing tool. Keep your company information easily accessible to both existing and potential customers by offering key tags today.Custom printing on key fobs possible and personalisation.
Different strap and loop options to attach key tags/ luggage tags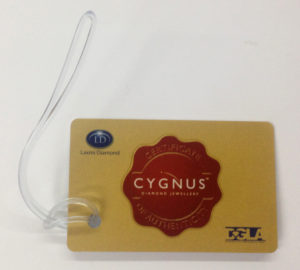 Bar coded Keytag & Keyfobs


For more information refer to www.plasticcard-printer.com/luggage_baggage_tag.html